"There's rosemary, that's for remembrance; pray you, love, remember." –William Shakespeare (Hamlet, Act 4)
Photo Credit: Craigles75| Flickr
Rosmarinus Officinalis, otherwise known as Rosemary, is an herb as ancient as the mythology it sprang from. Aside from its fascinating history, rosemary has numerous beneficial properties ranging from a digestive aid to a cure for thinning hair. Rosemary also has side effects everyone should keep in mind before using it in its oil or dried state. Let's start with a look at the history of rosemary and then move on to the benefits and side effects of this healing herb.
Herbalism is a fascinating subject. The power of herbs and spices can be found in cultures across the world. Stories of their healing properties are traced back thousands of years- from Native American Medicine men and women to Celtic and Greek Mythology. Today's history lesson on rosemary stems from the Greek Gods. Legend has it Aphrodite rose from the sea foam with rosemary draped around her shoulders. Aphrodite was born of Uranus' semen, God of the Sky. In the classic style of violent Greek mythology, one of Uranus' sons castrated him and threw his testicles in to the sea, which is how Aphrodite was created and why she is seen as the Goddess of Love and Passion.
(If you're a history nerd like me, click here to learn more about that story.)
The name rosemary derives from the Latin ros (dew) and marinus (sea). It literally translates to 'dew of the sea'. That puts the whole creation of Aphrodite story into perspective, doesn't it?
As with most Mediterranean herbs, rosemary is a perennial herb that flourishes in a limestone soil and minimal watering (although you should water them regularly in the first year of planting). The flowers can be white, pink, purple, or blue. The common rosemary we use in cooking is more likely to have purple flowers. Many don't know that rosemary is a member of the mint family, Lamiacae.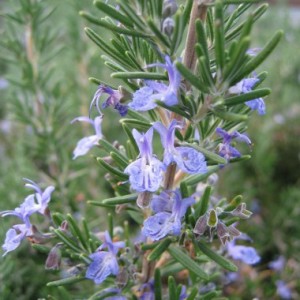 Photo Credit: Jardiland
Benefits 
The benefits of rosemary are far reaching since it can be used for healing your internal system as well as your outer body.
Helps problems such as heartburn, gas, loss of appetite, high blood pressure, and headache.

Studies show it boost brain function and memory.

It's a good source of iron, calcium, vitamin B6, and antioxidants.

Rosemary oil  is used in products for thinning hair due to its ability to increase circulation in the body. It also aids eczema and toothache. 

Because it has anti-inflammatory compounds, it's ideal for easing muscle and joint pain.

Boosts the immune system and helps neutralize free radicals.
Side Effects
Some of its strengths are also its weaknesses for people with allergies and disorders. 
Pregnant women should avoid an excess amount of rosemary. It increases menstrual flow, which can cause abortions or affect the fetus in some other way.

Stay away from rosemary if you're allergic to aspirin. Rosemary contains salicylate, which is a similar component to aspirin.

Because rosemary stimulate brain circulation, people with neurological disorders are advised to avoid using the oil or taking it in pill format. Adding rosemary to food is acceptable.
Are you ready to add more rosemary to your life?
Here are two recipes to try this week:
Rosemary & Coconut Oil Hair Mask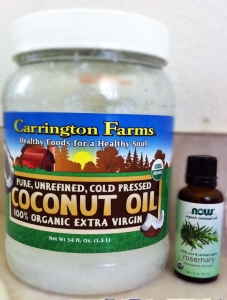 Ingredients
1/4 cup Extra Virgin Coconut Oil
10 drops Rosemary Essential Oil
Directions
Warm up oil in microwave or on stove. I measure my oil and then put it in a coffee cup to heat it in the microwave. I find it's easier for me to apply it to my hair later.

Add the rosemary drops to the warm oil and swirl to mix together.

Use your fingers to put the oil through your hair, starting at the scalp and going down to the tips of your hair. Massage it in to your scalp gently to help the warm oil soak in through the hair shafts.

When your hair is completely saturated in the oil, wrap a warm towel around it and cover the towel with a shower cap. The extra heat will help activate the benefits of the coconut oil and rosemary even more.

Let it sit for at least an hour. I leave mine in for closer to 3 hours, but I have dry hair that needs the extra moisture.

Shampoo your hair as normal.

Breathe in the calming scent of rosemary when you're done!
Tips
Never put pure essential oil directly on your skin. Always dilute it with a carrier oil (jojoba, argan, avocado, coconut, etc.)

Coconut oil makes a great body moisturizer! I use it for body use and cooking.
Rosemary Garlic Rubbed Steak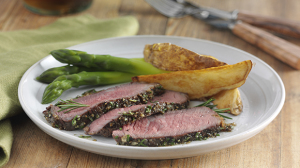 Photo credit: Knorr
This recipe is from the Knorr website.
Ingredients
1 Tbsp. olive oil
2 tsp. fresh rosemary leaves
1 Knorr Beef flavored Bouillon Cube, crumbled
1 clove garlic
1/2 tsp. ground black pepper
1-lb top sirloin steak
Directions
Visit the Knorr website for directions.
Tips
Adding rosemary to beef reduces the formation of cancer causing agents that can develop during cooking.

To get the full flavor of any herb you use in cooking meat, it's important to marinate. This is especially crucial if the herb is added to a sauce or glaze of any kind. Marinate, marinate, marinate!
Do you have a favorite use for rosemary? Share it in the comments below!